D4000
The D4000 was developed to meet the demands of the increasing size of chemical and product carrier tonnage. The D4000 utilises the well proven operating characteristics of the 'Jetstream' range ensuring that a reliable and effective wash program is achieved.
All main components of the D4000 are manufactured in Stainless Steel (AISI 316L) whilst all seals and gearing are manufactured in resilient materials ensuring compatibility with a wide range of chemical / product cargoes.
The D4000 is lubricated by the wash media which removes the possibility of cargo contamination by gearbox lubricants. A range of nozzle sizes allows the machine to be tailored to suit your particular requirements.
The D4000 can be supplied as a fixed, permanently installed unit or as a portable machine.
Machine Features
Innovation that delivers Suitable for vessels up to 50,000 DWT
Type approval by BV
Wash media lubricated bearings, no risk of cargo contamination
Supplied as fixed or portable machine.
Material of manufacture:- Body: 316L St.St, Gears : PEEK, Bushes: Carbon PTFE
Technical Information
Max height-265 mm
Max width-165 mm
Weight-14 kg
Inlet connection-2.5" 7.5 tpi Male/PN16/50 Flange
Operating temperature-Up to 100°C
Cycle times-Various times available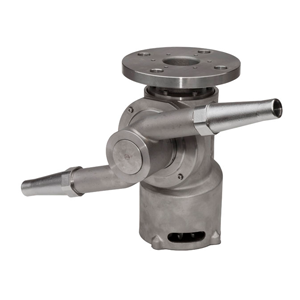 download factsheet