Orbitor Hi Cap
The Orbitor Hi Capacity tank cleaning machine is designed to deliver the most powerful cleaning of larger tank sizes. With jet lengths spanning a radius of 13m to 21m (depending on nozzle size & operating pressure – see overleaf) the machine can readily tackle 26m to 42m tank diameters. For larger or more complex structures, shadow studies can be commissioned to ensure optimum placement of multiple machines for 100% cleaning.
With quality components, materials & finishing the machine is highly suited to a wide variety of industrial and hygienic applications. The Orbitor Hi Cap makes light work of cleaning the toughest residues including highly viscous materials. It can be readily combined with hot water cleaning to shift even the most resistant / hardened substances making it ideal for many process applications. ATEX certification available on request.
Each unit is fully self lubricating & self cleaning to prevent contamination & can be safety certified for use in ATEX regulated applications. The Orbitor Hi Cap can be supplied as a fixed or portable machine in 2 finishes: standard or hygienic.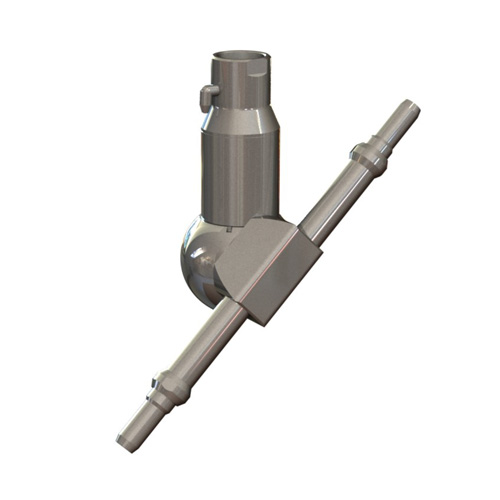 download factsheet
Machine Features
Powerful cleaning; ideal for larger tank to Ø 42m
Safety & quality certified to ATEX /BV standard for use in hazardous environments
Configured to order, reducing water consumption
Designed with minimum moving parts to ensure extended operating life, reduced down time & ease of maintenance
Self-cleaning & lubricating to avoid contamination
Available in 2 surface finishes: standard & hygienic
Materials of manufacture:-

Body 316L Stainless Steel
Gears PEEK
Bushes Carbon PTFE
Technical Information
Nozzle sizes 10mm or 12.5mm
Min tank opening Ø 140mm
Weight 12.5kg
Inlet connection 1.5" BSP/NPT
Operating temperature up to 95°C (to 60°C/ATEX)
Cycle/Wash times dependant on specification range approx 9-16 min