Orbitor Dual Head
The Orbitor Dual Head is a versatile tank cleaning machine. All 8 nozzles can jet simultaneously to deliver the densest wash pattern available to a full 360° clean.
The unique Dual Head design excels when configured for open tank washing. The wash pattern can be set from 180° to 85°
down wash, concentrating the jets in the areas requiring cleaning and reducing waste water. As the machine rotates through its 360° cycle the nozzles deliver powerful cleaning jets in the downward arc and cut out on the upward arc to prevent overspill and upward spraying. At any one time 4 nozzles are open for an effective and constant downward washing action. This modification is ideally suited for applications where heavy residue is concentrated on the bottom of tanks or across filtering structures such as storm screens in the water utilities sector.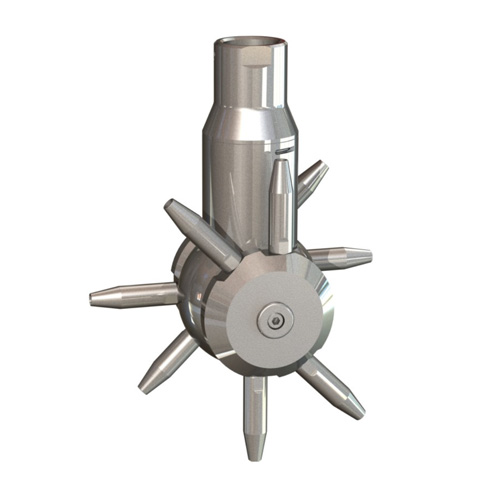 download factsheet
Machine Features
Ideal for smaller tanks, easily fits Ø100mm apertures (4"); Ø85mm* (3") *when vertically aligned
Ideal for open tanks up to 30m diam (* based on 180° wash pattern)
Safety & quality certified to ATEX (on request)
Configured to order, reducing water consumption
Minimum moving parts for extended operating life, reduced down time & ease of maintenance
Self-lubricating, avoids contamination
Effective cleaning, even at low operating pressures
Materials of manufacture:-

Body 316L Stainless Steel
Gears PEEK
Bushes Carbon PTFE
Technical Information
Max height 337mm
Min tank opening 270mm
Weight 10 kg
Inlet connection 1.5" BSP
Operating temperature range Up to 95°C (to 60°C/ATEX)
Cycle times Variable: approx. 10-17 mins