DT (Directional Tank Cleaning Machine)
The Dasic  DT is a versatile tank cleaning machine delivering targeted, directional cleaning for maximum efficiency. Originally custom designed to meet the challenge of removing resin scum lines in the Paper & Pulp Industry, the DT can be modelled to meet your most exacting cleaning requirements.
Nozzles angles can be pre-set to wash with multiple jets from 2 to 6 nozzles. Nozzle sizes can be varied on the single head to deliver specific jet lengths to clean different areas of the tank. This is ideal for targeting high impact cleaning jets on areas of dense residue build up such as scum lines, drain points, or tank bottom washing. Shadow studies can be commissioned to ensure existing obstacles of internal structures & pipework are minimized.
The mounting angle of the machine can also be pre-set to ensure maximum coverage where the tank access point is not central. The nozzle head itself can be designed to allow for alternate nozzle combinations to be re-configured / adjusted on-site.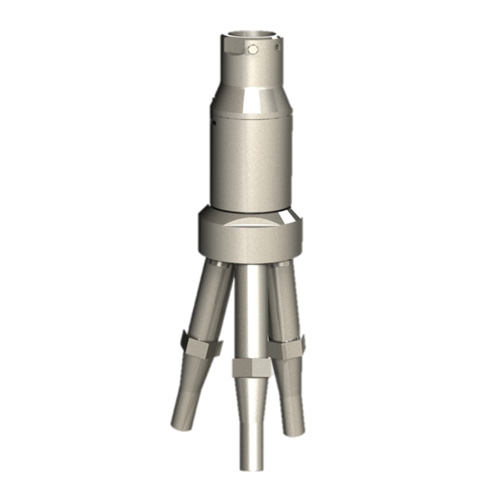 download factsheet
Machine Features
Bespoke configuration of nozzle number & nozzle angles to target scum lines or tough areas of residue & tank bottom washing
High impact, efficient cleaning process
Reduced operational & lifetime costs
On-site nozzle re-configuration option, providing extended use & flexibility
Reduced water consumption
Simple, low maintenance design
Technical Information
Materials of manufacture:-

Body 316L Stainless Steel
Gears PEEK
Bushes Carbon PTFE

Max height variable
Max width variable
Weight 6.0kg
Inlet connection 1.5"BSP/NPT
Operating temperature up to 95°C