Orbitor Double Nozzle
The classic high quality stainless steel Orbitor is a self lubricated, self cleaning orbital tank washing machine. Its unique design & simplicity of operation means it is ideally suited for use in a wide range of industrial & hygienic environments / CIP systems.
The cleaning medium passes through the 2 nozzle machine & is delivered as high pressure impact cleaning jets. An efficient turbine motor drives the Orbitor head through a 360° spherical pattern providing 100% tank cleaning to the highest sanitary standard. The Orbitor excels at cleaning horizontal corrugations and difficult structures and can be used with very hot water making it ideal for food, brewing & other hygienic applications. Due to its low starting torque, it can also be used with low supply pressures. The cleaning media lubricates the gear box so there is no risk of contamination.
The Orbitor is supplied in 2 finishes: standard for general industrial purposes & highly polished for hygienic use. To ensure 100% efficient cleaning with the minimum possible water consumption, each machine is custom made / configured to order, matching cycle times, operating pressure & flow rate requirements. The inlet connection can be adapted to suit. Both fixed & portable units can be ATEX certified to operate safely in hazardous zones (available on request).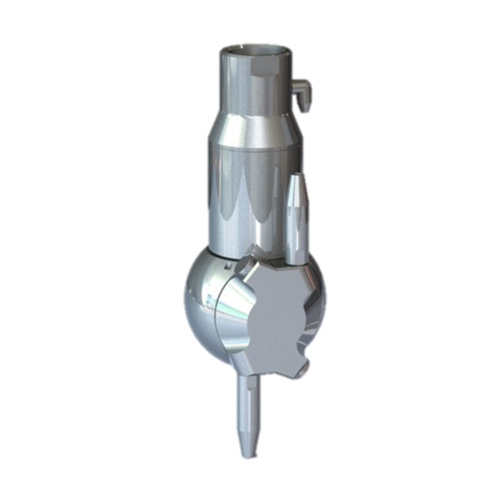 download factsheet
Machine Features
The Orbitor is ideal for use in medium to larger tanks from 12m to 29m diam.
Tried & tested, safe, quality design (ATEX / BV)
Available in 2 surface finishes: standard & hygienic
Minimum moving parts to ensure extended operating life & reduced down time & ease of maintenance
Configured to order, reducing water consumption
Effective cleaning, even at low pressures
Media lubricated so no risk of contamination
Materials of manufacture:-

Body 316L Stainless Steel
Gears PEEK
Bushes Carbon PTFE
Technical Information
Max height 354mm
Min tank opening Ø 125mm
Weight 6 kg
Inlet connection 1.5" BSP
Operating temperature range up to 95°C (to 60°C/ATEX)
Cycle times variable approx. 10-17 mins