Orbitor 4 Nozzle
The Orbitor 4 Nozzle delivers a dense wash pattern for an exceptional clean at the highest CIP standards required in the food, brewing, beverage, dairy & chemical industries.
The machine is designed to fully self-clean during operation. Its profile's rounded contouring and smoothness of finish ensures no residue can be trapped in the outer or inner mechanism. With seals that self-flush and the cleaning media itself lubricating the gear box, there is no risk of contamination or product build up. Due to the Orbitor's low starting torque it can also be used with low supply pressures.
To achieve 100% efficient cleaning with the minimum possible water consumption, each machine is custom made / configured to order, matching cycle times, available operating pressure and flow rate requirements.
The Orbitor 4 Nozzle is available in 2 finishes: standard for general industrial purposes & highly polished (0.8Ra internal; 0.5Ra external) for hygienic use. ATEX certification is available on request.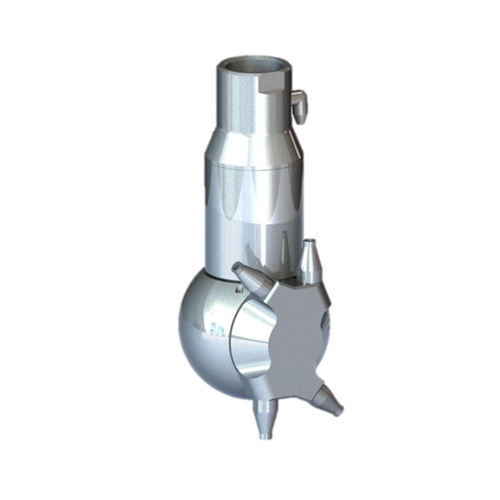 download factsheet
Machine Features
Ideal for tanks from <10m to 26m diam where a dense wash pattern is required
Safety & quality certified to ATEX / BV standards
Configured to order, reducing water consumption
Available in 2 surface finishes: standard & hygienic
Minimum moving parts for extended operating life, reduced down time & ease of maintenance
Self-cleaning & lubricating, avoids contamination
Effective cleaning, even at low operating pressures
Materials of manufacture:-

Body 316L Stainless Steel
Gears PEEK
Bushes Carbon PTFE
Technical Information
Max height 312mm
Min tank opening Ø 125mm
Weight 6 kg
Inlet connection 1.5" BSP
Operating temperature range Up to 95°C (to 60°C/ATEX)
Cycle times variable approx. 10-17 mins