D3000
The D3000 is the smallest and most versatile of the "Jetstream" family and uses the same tried and tested operational characteristics.
Lubrication by the wash media alone removes the possibility of cargo contamination by gearbox lubricants. There is an option to have a grease lubricated gearbox if required. A "Full Tank – Quick Rinse" facility is built into the machine mechanism.
A combination of nozzle sizes and cycle times allows the Junior to be tailor made to suit particular applications.
The D3000 can be supplied as a fixed, permanently installed unit or as a portable machine.
Machine Features
Suitable for vessels up to 30,000 DWT
Type approval by BV
Wash media lubricated bearings, no risk of cargo contamination
Supplied as fixed or portable machine
Technical Information
Max height-241 mm
Max width-150 mm
Weight-11 kg
Inlet connection-1.5" BSP/PN10/40 Flange
Operating temperature range-Up to 100°C
Cycle times-Various times available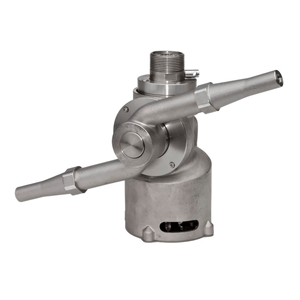 download factsheet