Jetfan 70 MK3 Water Driven
The Jetfan 70 Mark III offers high performance gas feeing within a remarkably small but robust unit. Many years of fan design technology have enabled us to incorporate the very best features for efficient and effective gas freeing operations.
Crucial to achieving minimal gas freeing times is the air flow penetration to the deepest parts of the tank structure. In common with all our Jetfan units, the Jetfan 70 Mark III directs the air as a column to the tanks bottom ensuring a more effective displacement of the gaseous atmosphere.
Normally used as a 'blowing' fan the Jetfan 70 Mark III can be easily reversed to enable air 'extraction' .The aluminium construction is well suited to the harsh marine environment and will provide many years of reliable service.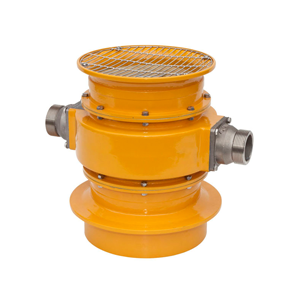 download factsheet
Benefits
Deep air penetration
Low maintenance
Powerful and therefore quick overall operation time
Simple, robust design
Straight forward to switch between penetration and extraction
Position of the water turbine ensures there is no risk of water contamination into the cargo hold
Technical Information
Drive media – Water
Max height – 340mm
Max width – 485mm
Weight – 21kg
Supply connection – 2.5" 7.5 tpi male (BW)
Discharge connection – 2.5" 7.5 tpi male (BW)